The NEW all-in-one design by SoCalMotoGear adds powerful LEDs to brighten up the road while the LED DAYTIME RUNNING LIGHTS enhances the look on your motorcycle and promotes better visibility on the road. When your signals come on the dual switchback technology will activate the amber LEDs (GL1800/F6B). With this product, you will modernize the look of your bike with this single projector with High Definition Optics that produce a clean white light. These lights throw a wide horizontal beam sure to light up ditches and cuts through the rain/fog like never before. Our engineers added the Daytime Running Lights to sport the new look of modern vehicles. DRL's (Daytime Running Lights) stay on and when you activate your turn signals they switch to BLINKING AMBER.

Includes the 2012+ GL1800/F6B/VALKYRIE LED FOG LIGHT KIT W/DAYTIME LED and WHITE TO AMBER SWITCHBACK technology.
You get 3-in-1! This is the best Driving/Fog Light LED upgrade available. These lights will also update the look of your motorcycle with Daytime Running Lights.
Installation: The Plug N Play – Hardware/Fog Light. Product mounts and installs to existing OEM factory pre-drilled holes, not to plastic cowl inserts.
Fitment: 2012+ GL1800/F6B/VALKYRIE
OEM style connectors for easy installation. Includes all mounting brackets and OEM style on/off switch.
GL18RFL OPERATION (GL1800/F6B MODELS)

The "WHITE" DRL lights come on when there is power to the motorcycle. The Amber DRLs are controlled via your Left and Right Turn signals. The Fog lights turn on and off via the Fog Light switch and are controlled independently from the DRL lighting.

NOTE: Due to different lighting conditions, LED running lights are only used to enhance the look of the bike. Since this is the case, they should not be used on their own for driving conditions.
Package Includes:

1 Pair of Rectangular 2012+ GL1800/F6B/VALKYRIE LED Fog Lights w/Daytime Running Lights
1 PC Relay and 1PC Jumper
4 PC Posi-tap connectors
1 PC OEM style factory fog light switch- Switch is always illuminated for easy access
All necessary hardware mounting brackets/screws
QSR – Quick start sheet with link to installation video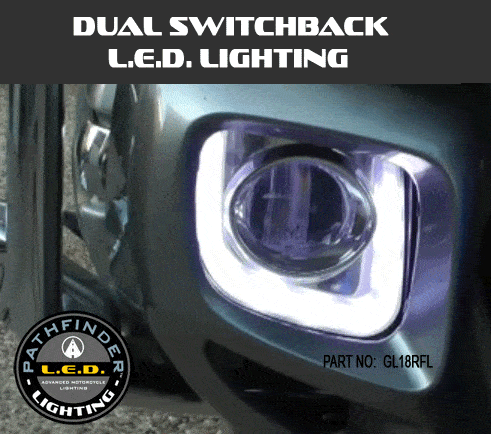 GL18RFL SPECIFICATIONS PER LIGHT:
FOG LIGHT: 12V (1A)
RAW LUMENS: 900lm
DRL: POWER CONSUMPTION:7.2W
0.6A @12V DC – LUMENS: 90-450LMAMBER/WHITE
LENS: IMPACT RESISTANT – POLYCARBONATE LENS
PROJECTOR OPTICS – DIE CAST ALUMINUM HOUSING
MOUNTING TYPE: PRE-EXISTING FACTORY HOLES