Park-n-Move Motorcycle Dolly
"Park your motorcycle anywhere"
Made in Canada!
No Modifications to your motorcycle
Suitable for motorcycles with center stand (center stand required)
Clean, compact design (platform size: 16″ x 6″)
Heavy-duty casters
Rubber anti-slip pad included (optional use)
1,100+ lbs weight capacity
Warranty: 5 years
Made in Canada, shipped from Canada (no extra charges, e.g. duties, bond or brokerage fees, etc. for Canadian or U.S. customers)
The Park-n-Move™ is the 'must have' product for all motorcycle owners needing to easily move their motorcycle around.  When space is an issue the Park-n-Move™ allows one person to easily park their motorcycle in any location they desire.
The Park-n-Move™ is designed for all motorcycles with center stands. It also works on Harley Davidson touring models that have the EZUp Center Stand installed (works with other Harley Davidson center stands except front-mounted display stand).
BENEFITS:
Park Your Motorcycle ANYWHERE – The Park-n-Move™ has four 360° heavy-duty casters allowing your motorcycle to be placed anywhere room is available. Valuable floor space in your garage is used in the most efficient manner.
No Modifications to Your Motorcycle – The Park-n-Move™ utilizes the center stand found on many of today's motorcycles.  Simply roll the Park-n-Move under the bike, fold down your center stand, and move your motorcycle anywhere in the garage.
Park Multiple Motorcycles – The Park-n-Move™ can help you locate all the motorcycles in your garage.  Have a Park-n-Move™ for each bike and quickly roll whatever motorcycle out you want to ride.  No more having to move all your motorcycles to get at the one you want.
Locking Casters – The Park-n-Move™ has locking heavy-duty casters.  The locking casters secure the Park-n-Move™ in place while you unload your motorcycle. The locking casters also anchor your motorcycle once parked. No need to worry about it rolling out of place.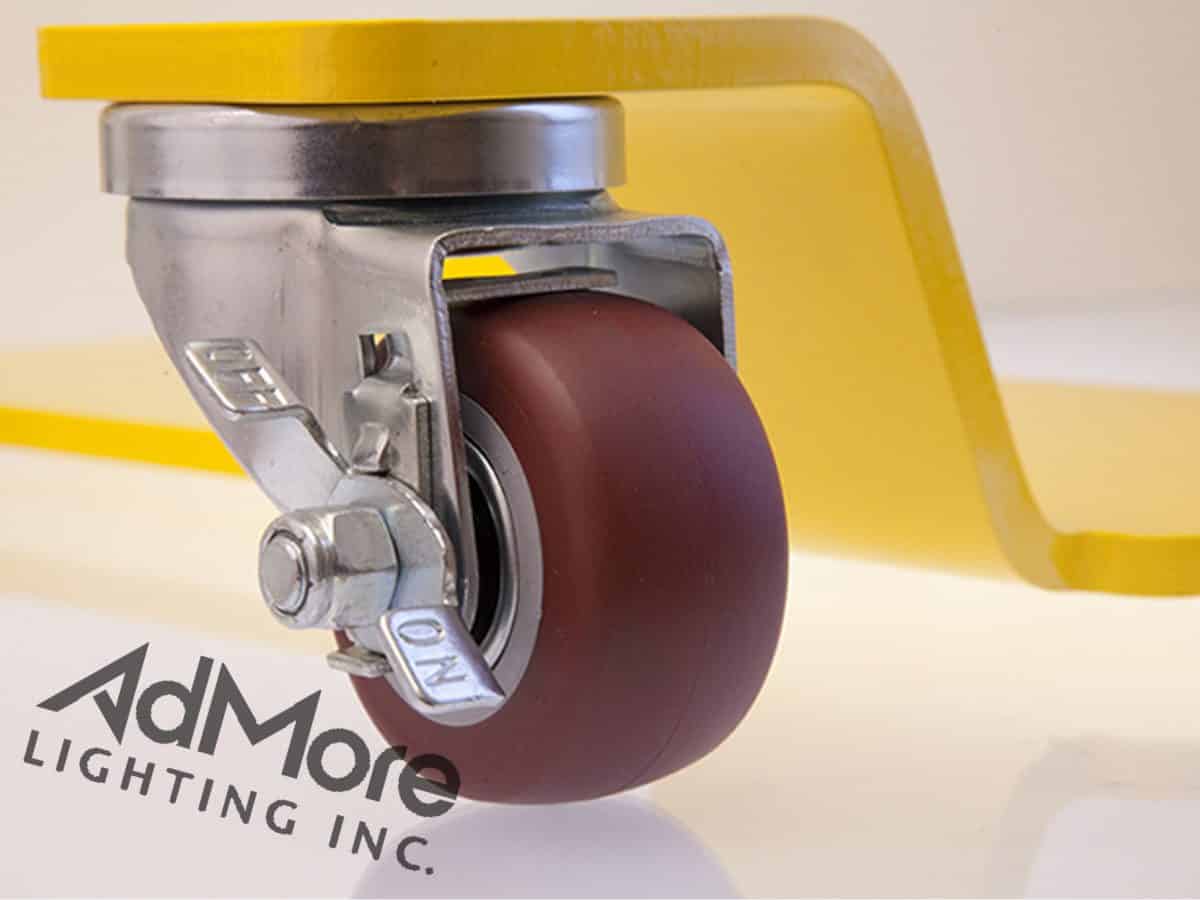 One Person Operation – The Park-n-Move™ was designed for one person to easily move a motorcycle where room is at a premium. No more wrestling your bike back and forth to position it in the place you want.
Low Profile Design – The Park-n-Move™ design is low to the ground.  Minimal effort is required to place the bike on the Park-n-Move™.
Compact Design – The Park-n-Move™ is a single piece design that stores out of the way when not in use. Hang it from the wall, put it on a shelf, or lean it up against a wall.  Space in your garage is maximized.
Made in Canada – The Park-n-Move™ is proudly made in Alberta, CANADA.
Ships by UPS (Ground)
* Please note: The Park-n-Move may not be compatible with some newer KTM, Norden, and Triumph motorcycles. If your center stand legs are wider than 15″ apart, you will want to consider the Park-n-Move (XL).