THIS SET-UP REPLACES YOUR STOCK HEADLIGHTS (LOW OR HIGH BEAMS)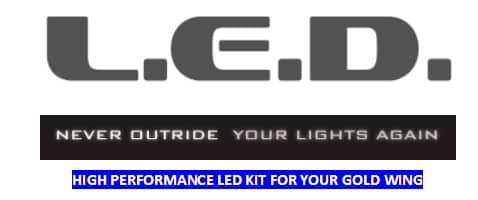 Upgrade your stock lighting and experience LED lighting like never before. Our LED lighting simply makes you more visible during the day and if you ride at night, you will certainly appreciate the changeover. This setup upgrades your lights to bright white (6000k) while making you more visible on the road day or night. These LED replacements draw less power from your battery which in turn reserves your charging system for other electronics.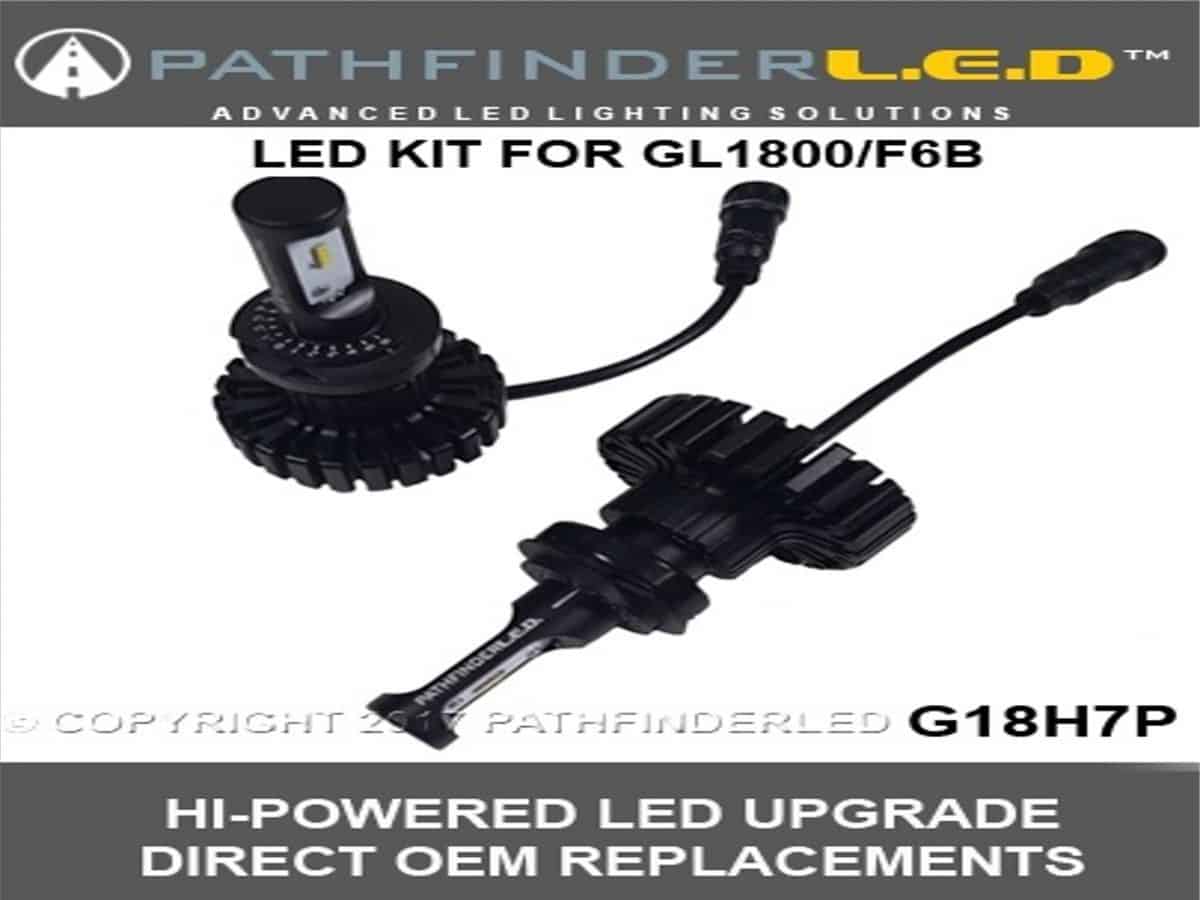 REPLACING your headlights to LED is one of the best investments you can make! Be Safe… Be Seen..!
REASONS WHY YOU SHOULD UPGRADE TO LED HEADLIGHTS: 
Compared to your stock incandescent bulbs, this is approximately a 3x lighting upgrade.
LEDs are much brighter and makes you more visible day or night.
Power: *Draws less than half the power (50%) compared to your stock incandescent bulbs. Outputs a clean, high intensity, brighter light.
*Less power draw from your battery means less load on your alternator so you can run other electrical equipment/accessories.
Instant Intensity: Never out-ride your lights again. See and be seen – day or night visibility. 

Instant On, No Warm Up Time: LED bulbs are instant on (No warm up time required). May also be compatible with headlight modulators. 
Passive Cooling: SOLID STATE DESIGN, NO MOVING PARTS, NO FANS, NO NOISE.
New JET-PRO type heat sink absorbs and dissipates heat efficiently away from the LED bulb/body. These lights are much cooler than competing models. Better design, better value, better product!
You can either replace your Low Beams, High Beams or Both. Each kit includes 2 High Performance LEDs with inline drivers
and can be installed in either set-up.
Unlike other lights on the market, our lights have been fit-checked and road-tested by seasoned riders/enthusiasts so you can be assured you are getting a high quality product for your bike.
LED lighting draws very little amperage while outputting a great light down the road. Unlike other LEDs that are just bright to look at, our LEDs throw a fantastic beam down the road.
Installation is even easier than before – no trimming/cutting of the rubber boot is required.
EACH KIT INCLUDES : LED lights (2) with inline drivers and installation instructions & video install link. 
OPTIONS:
Replace your LOW OR HIGH BEAMS: 1 Kit required – Includes two (2) PATHFINDERLED LEDs w/inline LED drivers
Replace your LOW AND HIGH BEAMS: 2 Kits required – Includes four (4) PATHFINDERLED LEDs w/inline LED drivers
SPECIFICATIONS:
4000LM LED BULBS
6000K COLOR TEMP
Visual brightness similar to an 80W BULB
FITMENT:
GL1800 (2001-2017) and all F6B motorcycles.
WARRANTY:
One (1) year from date of purchase – BUY WITH CONFIDENCE!
We guarantee that you will be blown away by these new LED bulbs compared to your stock bulbs!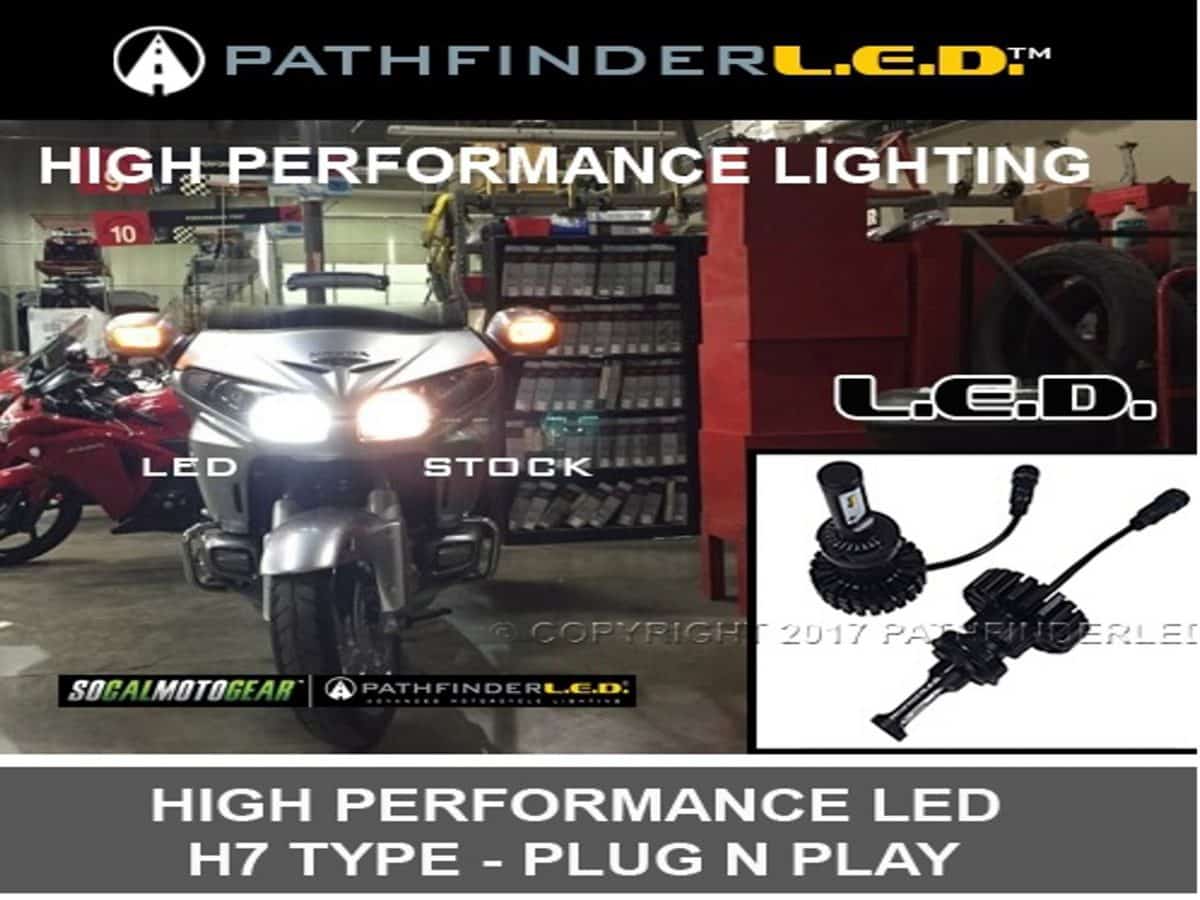 Approximate Installation Times:
Low Beams: Less than 1 hour
High Beams: 1-3 hours

NOTES:
This kit does not require any modification on your Factory Rubber boot, you simply twist off the heat sink and reinstall after the rubber boot.
Some items in the images/video shown may look slightly different from the actual parts you receive. The product(s) you receive may either be an upgraded, improved or simply a re-designed model compared to what was used in the image/video but delivers the same or better quality.