Description
12/10/2020: We are currently sold out of the AdMore Light Bar with Smart Brake technology. We plan to have more light bars in stock by the end of February. We apologize for the inconvenience and appreciate your patience.
LED High-Powered Light Bar with modulating brake light, progressive, amber turn signals and Smart Brake technology.
We've taken our popular light bar and made it even better! The AdMore Light Bar with Smart Brake technology incorporates a sophisticated accelerometer sensor to detect rapid deceleration (from throttle release or downshifting) and will activate the Light Bar brake light automatically.
Enhance your safety and reduce the risk of a rear-end collision by having your AdMore Light Bar illuminate even before you apply your brakes!
The AdMore Light Bar comes pre-configured with the most popular options and settings and is ready to go out of the box.  Customizing many of the functions and settings can be easily accomplished by connecting the Light Bar to any computer* using the included Micro-USB cable.  The AdMore Configurator Software Suite (available for download at www.admorelighting.com) allows you to custom configure your AdMore Light Bar to have the features and settings that you want!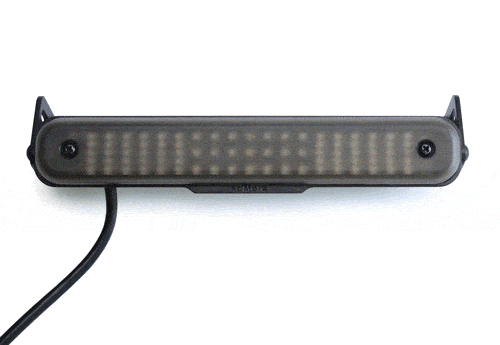 What makes this AdMore Light Bar unique?
Aluminum housing incorporating 81 unified, high intensity, bi-color (red/amber) Cree LEDs (plus 3 white LEDs) to provide tail light, brake light, progressive amber turn signals and white strobe when brakes are applied.
Sophisticated accelerometer sensor detects rapid deceleration of the motorcycle or scooter and automatically activates the Light Bar brake light (can be set to "Off" or sensitivity level customer selectable)
Super bright brake light (brightness level customer selectable)
Brake light modulation (can be set to "Off" or number of flashes customer selectable)
Center column contains 3 super bright white LEDs with unique flashing pattern (strobe) in brake light mode (can be set to "On" or "Off")
Eye-catching progressive amber turn signals
Works with hazard (4-way flasher) lights
Integrated super-bright white license plate light (can be set to "On" or "Off") to accommodate mounting above license plate
Firmware upgradeable, customer configurable
Functionality configurable by customer includes: Brightness level, deceleration sensitivity, brake light modulation, white strobe light, license plate light and more!
Micro-USB port (cable included) provides connectivity for firmware upgrades and to access AdMore Configurator Software Suite (Windows 7,8 & 10 compatible or Command Line [Linux or MAC OS] compatible) for user definable options
Universal, black, powder-coated aluminum bracket included
Easy installation; all required hardware & premium connectors included
Optional smoke lens available
CANBUS compatible (all of our products are!)
Full one (1) year warranty
Approximate size: 8″ x 1.25″ x 1″
Confused about which Light Bar to get? Click here for our handy Light Bar Comparison Chart.
What's Included
AdMore Premium Light Bar
Universal, aluminum mounting bracket
Micro USB cable
Premium wire tap connectors (5)
Hardware kit
Compatibility
All motorcycles/scooters with 12V electrical systems (including late model BMW, Ducati, KTM motorcycles)
Indian motorcycles require special firmware upgrade (your light bar will automatically ship with this special firmware when you select your Indian Motorcycle details above)
Available Options
Clear or Smoked lens
Black or Chrome housing
** Attention Indian motorcycle customers, check out this great customer installation and review of the AdMore Light Bar: AdMore Light Bar on Indian Motorcycle
** Attention BMW motorcycle customers, check out the BMW install videos below.