PATHFINDERLED MULTI-FUNCTION FOG LIGHT KIT W/DRL + ENHANCED STROBE LED (2020 – 2022 GOLD WING)

FEATURES:
Mode A: Super Bright Mode – Fog Lights + DRL (Daytime Running Lights)
Mode B: DRL (Daytime Running Lights)
Enhanced LED Strobe Mode: For parade and show purposes. Hidden feature activates with a series of button presses when first starting the bike.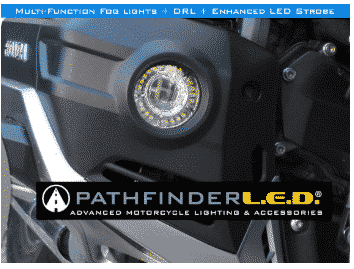 Mode Operations: Cycle through using the fog light switch or flash-to-pass between the Super Bright FOG + DRL mode or DRL Only mode to demand greater visibility while riding. Entering Strobe mode is a hidden feature for show/parade use and should be used for these purposes. It can only be accessed when first starting up the bike and pressing the fog light a specified number of times. State inspections are not affected since Strobe Mode is a hidden feature.
WHY PUT DRL ON A FOG LIGHT?
Because the DRLs and Fog Lights together enhances rider visibility day or night. During the day, super bright DRLs add that extra layer of visibility. At night, while the fog lights do their job, the DRLs demand your presence on the road. We add these modern features to enhance your safety and increase your visibility.
Our research has shown by adding more lights and features are what customers expects these days. Don't fall victim to subpar products. PATHFINDERLED products are designed to increase rider safety/visibility. We incorporate modern features such as DRL to not only make your bike look stylish but adds maximum value/safety.
The PathFinderLED Multi-Function Fog Light Kit exceeds OEM features and no other lighting comes close. The perfect addition to your 2020 – 2022 Gold Wing which will not only compliment the new headlight design, this kit will add some serious lighting. Designed from the ground up, our engineers use advanced projector optics that produce a clean beam pattern down the road; not scattered light. We've added extra features to enhance your riding visibility. Extra features do not compromise the main function in any way. This is a premium fog light kit with modern day features such as DRLs (Daytime Running Lights), not just another boring fog light. When our customers asked for more features, we listened and delivered.

KIT INCLUDES:

PathFinderLED Multi-Function Fog lights
Installation hardware w/ OEM type fog light switch and connecting cables.
Installation video guide – YouTube link

This is a professional lighting kit that conforms to factory standards including factory style hardware for proper OEM fitment and clean installation without voiding your warranty. Installation time: 2-3 hours. This product is recommended to be professionally installed. We provide a step-by-step YouTube installation video.
Notice: Always obey all federal, state and local laws. This product has been fit checked on US SPEC bikes. International model bikes may require slight modifications and may not be plug n play. Check with your local dealer for details.
DOT COMPLIANT: The DOT Compliant refers to the design of the light source projecting light behind our projector lens. This produces a clean beam pattern, unlike scattered lighting similar to some products we have tested in the past. The fog light strobe mode should only be used for show or parade purposes.
---
| | |
| --- | --- |
| MULTI-FUNCTION LED FOG LIGHT KIT FOR 2020 – 2022 GOLD WING | |
Features

Light features: FOG LIGHT/DAYTIME RUNNING LIGHT/ENHANCED LED STROBE
UV/IMPACT RESISTANT POLY CARBONATE LENS
ADVANCED PROJECTOR OPTICS – DOT COMPLIANT
DIE CAST ALUMINUM HOUSING
WEATHERPROOF OEM TYPE CONNECTORS
THIS PRODUCT EXCEEDS OEM DESIGN FEATURES.