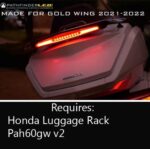 GL1800 HIGH MOUNT SEQUENTIAL LED BRAKE RUNNING LIGHTS (2021-2022)
GL1800 HIGH MOUNT SEQUENTIAL LED BRAKE RUNNING LIGHTS (2021-2022)
C$259.00
Brand: SoCalMotoGear
Product Code: G21HTL
Availability: In Stock





HIGH MOUNT SEQUENTIAL LED W/DYNAMIC BRAKE/RUNNING LIGHTS
MADE FOR GOLD WING TOUR 2021-2022


Looking for a similar product for older Goldwings? Click here.

This is a "bolt on" ultra bright LED light and NOT to be confused with "adhesive stick on" type. Additionally, we use ultra bright LEDs and not the larger cheap style " plasma type" LEDs. There is a huge difference in brightness and intensity.

This product integrates with the Chrome Trunk Rack and no doubt will add superior visibility to the rear of your bike.

Designed with the rider in mind. High visibility features such as Dynamic Brake lights that flash rapidly when your brakes are applied and Dynamic Sequential turn signals sets your Gold Wing apart from stock models. When brakes are applied the Ultra Bright Dynamic LEDs activate in a rapid fire sequence which instantly alerts drivers behind you to respond quicker than they normally would. When the turn signals are activated the Sequential LEDs have a dynamic swoosh effect which resembles that of modern vehicles and increases your visibility and quicker reaction time from vehicles behind.

These lights will certainly add value and increase your visibility on the road!

33 DIFFERENT LIGHTING FUNCTIONS ALL BUILT IN!

FITMENT: 2021-2022 HONDA GL1800

FEATURES: Added Safety and Visibility!

Running Lights
Dynamic Brake Lights (Modulates)
Sequential Turn signals
Adds superior visibility to the rear of your bike
Plug N Play

LEDs not only draw less amperage (power) from your bike but have quick refresh rates so they are "instant on" and this gives the driver behind you quicker reaction time.

PACKAGE CONTENTS:
1 – Multi-Function LED Brake Light
1 – Trunk Sub Harness
1 – High Mount LED Brake Light Base
6 – 5mm Stainless Steel Screw
2 – Spring Nut
2 – Push Mount Tie
1 – Installation Guide

*Requires Honda CHROME TRUNK RACK (P/N 08L70-MKC-A00)

*Requires PathfinderLED Plug N Play 4XP Cable Harness (P/N G184XP) See below.

NOTE: Required for installation is the G184XP Plug N Play Cable Harness (sold separately). The G184XP Cable Harness connects up to 4 PathFinderLED lighting products. This product is sold separately because you may already have it from a previous purchase, or your motorcycle already came with one.